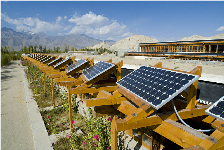 We aim to manage electricity demand within the constraints of our solar energy supply. This can be challenging during a prolonged, overcast period when less electricity is produced due to the lower sunlight levels.
As the school expands and electricity demand increases, we will need to increase installed capacity of both photovoltaic panels and inverters.
Around half of the initial investment in solar energy was co-financed by carbon-offest funds and additional capacity has been installed funded by a travel industry carbon-offset scheme.