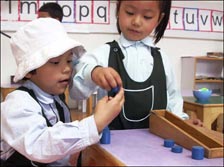 Druk White Lotus School has provided quality education to Ladakhi girls and boys since September 2001.
Who We Teach:
The school's catchment includes remote areas where quality education is unavailable. November 2013 saw the start of another academic year, with more than 700 students enrolled in thirteen year groups, from Nursery through to Secondary School Class 10. Nearly half of the students live on the Shey campus in purpose-built residences. When complete, the school will accommodate about 750 young people.
What We Teach:
Nursery and Infant children are taught using the Montessori system. From Junior 1, formal studies follow the requirements of the Jammu & Kashmir State Board of School Education. The school intends to apply in due course for affiliation to the national-level Central Board of Secondary Education (CBSE). Co-curricular activities are important throughout the school in order to impart life skills.
In addition to the core subjects of English, Hindi, Bodhic (local language), maths and social studies, children study information techhnology, physical education and creative arts (painting, drawing, model-making, drama, dance and song).
Educational Ethos:
"The school aims to nurture life skills to give confidence and impart livelihood skills"
The educational ethos is to believe in the child as an active participant in the learning process rather than as a passive recipient. Activity-based learning forms a key part of lessons and children regularly participate in field-trips, role play, discussions, group-work and games. The school aims to nurture 'life skills' to give confidence and impart 'livelihood skills' to develop competence.
Find Out More:
Read 'Inside the School', an overview of school life by Maureen Songhurst, former Prinicpal.
Volunteering:
If you are a qualified educator and may be interested in volunteering please follow this link Volunteering in Ladakh