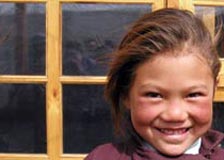 Our school is a not-for-profit institution and receives no direct public funding. Families and sponsors pay socially-affordable school fees, and additional funds can provide high-quality staff and material resources that 'make a big difference'.  You can join the journey by investing your passion, energy, expertise, time and money:
 Volunteer your expertise and time
Please e-mail  This e-mail address is being protected from spambots. You need JavaScript enabled to view it for 2014 enquiries.
By offering their time and expertise, and paying their own expenses, volunteers make a significant contribution to the life of the school and its students. Nearly all the international support for the project is provided on a voluntary basis, including the work of the Arup Design Team.  
Invest your money in ...

People

Teacher Resource Centre, including teacher training
Sponsor a day pupil or a remote area student from a disadvantaged family

Buildings & infrastructure

Dining Hall & kitchen extension - a multi-functional space including provision of school meals for residential students
Completion of the Secondary School and related infrastructure
Landscape work on the school campus and creation of sports facilities
Arena/Assembly Courtyard

 




How to donate or invest:
Payments can be made online or by posting cheques. You can find out more on our How To Donate page.