Browse the latest from the different feeds below, or use the menu on the left to go to the different blogs.
07 November 2013
Posted in Campus Blog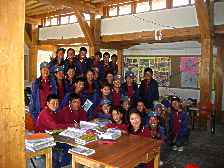 This month the Class 10 students, aged 16+, sit their external Matriculation Examinations before leaving school. The results will be available in March when the students make final choices on further education or work opportunities.
The students are working very hard as they are all striving for good examination results.