Browse the latest from the different feeds below, or use the menu on the left to go to the different blogs.
15 October 2013
Posted in Campus Blog
Students enjoyed making musical instruments with music volunteer Will Embliss from KINSHIP, UK, this summer.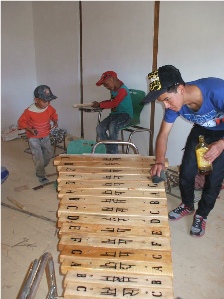 Will made instruments out of spare construction wood and taught the students how to play them. On the day of the Plant Nursery Inauguration guests also enjoyed the xylophone. Will also made instruments from metal tubes and old oil drums.