Browse the latest from the different feeds below, or use the menu on the left to go to the different blogs.
30 August 2013
Posted in News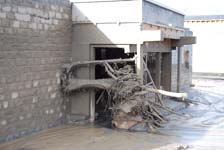 Three years ago this month, a big mudslide hit our school in the night and did a huge amount of damage. Nobody was killed on the campus, but more than 200 people lost their lives nearby in the Indus Valley. School staff saved our residential students and led them to safety on adjacent high ground. Villagers' fields were left covered in mud, boulders and debris, dramatically affecting their livelihoods.
The school buildings took a direct hit, but top-class design and good construction enabled them to withstand the large forces. The mud made a terrible mess inside buildings, and carried away books, furniture and equipment.
A huge collective effort by staff, neighbours, the army, public authorities, NGOs and volunteers enabled classes to get up and running again, with some held in tents while classrooms were cleared and cleaned. We took in some students who had lost parents or their homes.
Out of disaster came great good: Aamir Khan returned with His Holiness Gyalwang Drukpa to 'Rancho's School' to offer encouragement and help get the school back on its feet; a large team of men and equipment from Hindustan Construction Company appeared and spent two weeks clearing mud out of classrooms; and the JCB company kindly donated a digger to enable and speed recovery.
Supporters rallied round to help replace computers and other school equipment, and responded to a call to fund defences against any future mudslide. With their financial support, we have almost completed a defence wall 1km long, averaging 3m high. Because we had to divert resources to the clean-up and to building defences, the school's building programme had to be pushed back by about two years.
Memories of the night of 5th/6th August 2010 are etched in our minds. Nobody knows whether the cloudbursts and resulting mudslides were due to climate change, collective karma, or fate. We remember and honour those who lost their lives, their homes or their livelihoods. We give thanks for the kindness of the hundreds of people who dug away mud or assisted from a distance by donating towards replacing school resources or creating our mudslide defences.
Even today, three years after that traumatic night, the open spaces on about half the campus are still scarred by mud and boulders.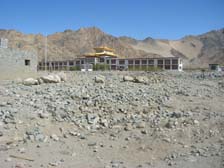 We are setting about transforming this mudslide devastation into a lush, 'green' learning environment that we are calling a 'Dragon Garden'. This is an artist's impression of a 'mandala' vegetable garden. It will probably take a further five years to overcome the physical effects of the mudslide on the campus. If you would like to participate or help in some way, do please get in contact.