Browse the latest from the different feeds below, or use the menu on the left to go to the different blogs.
08 April 2013
Posted in Garden blog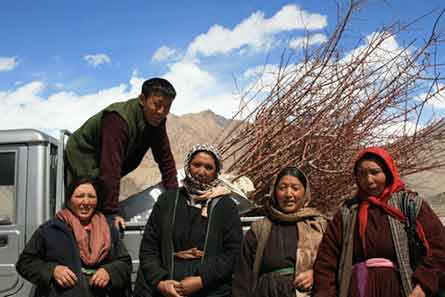 Arriving back on site after the winter produced mixed emotions: the absence of a head gardener meant that the greenhouse and nursery compound had been completely trashed. All the fencing had been torn down, the pots and cuttings in the greenhouse were smashed and there was rubbish everywhere. In the compound, the dogs had made a happy home from the organic mulch and eaten anything worthwhile from the compost, added to which there was dog mess everywhere. I didn't feel too optimistic. However the priority is planting and the aim is to get as much stock as possible and plant it out in the final positions or in the nursery. My first visit was to the horticultural dept. where Kunzang the secretary had reserved for us 250 grafted apple trees. The trees have come from Himachaal Pradesh and are 'Golden delicious' and 'Red delicious'. They will need to be planted out in the nursery compound for 1 or 2 years while they establish themselves in the Ladakhi climate. In addition we collected 154 3-year-old apricot seedlings from the nursery at Nimmu. Unfortunately all budded stock was taken within 1 day so the remaining stock is un-budded. Kunzang has promised that she will send a team of budders later in the season or next year to bud the trees. Until then we will grow them on in the nursery, feeding them and pruning them for form. Dr Saleem of SKUAST has said that all wild apricots will produce fruit but the timing will vary, perhaps some after 6 years and others after 10. Wild apricots can then crop better than budded varieties and retain genetic diversity.