Browse the latest from the different feeds below, or use the menu on the left to go to the different blogs.
04 October 2010
Posted in News
During the summer of 2010, a volunteer group of US architectural students from BaSiC Initiative came to the school. One of their projects was to design, fabricate and erect a large canvas tent structure from recycled parachutes. The structure was then taken to London and re-erected in the garden of Marlborough House as the Commonwealth Pavilion during The Earth Awards and His Royal Highness The Prince of Wales' START garden party in September 2010.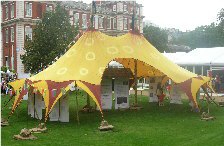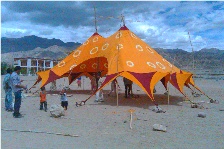 The Pavilion will return to Ladakh and take its place on the Shey campus once again in 2011.