Browse the latest from the different feeds below, or use the menu on the left to go to the different blogs.
02 May 2011
Posted in Campus Blog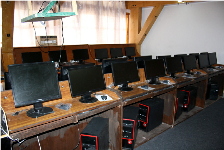 The flash floods in August 2010 wreaked havoc on the computer room of Druk Padma Karpo School. The mud crept in and damaged all the computers installed there. However, things always have a way of bouncing back from a disaster. And so it happened with the Druk School too. A lot of the damage done by the floods was repaired. Further, new computers were installed in March, 2011. Now the new and improved computer room stands proudly on campus with 32 new computers!