19 August 2010
Posted in Emergency news
12h00 London time, Thursday 19th August 2010
"All is not well" says Bollywood star Aamir Khan

Bollywood star Aamir Khan visited the school yesterday in the company of the school's founder, His Holiness Gyalwang Drukpa. The school was the location of several scenes in 'The 3 Idiots' movie.
Aamir said, "All is not well. But for the sake of humanity one should help others. One should raise the morale of others." He asked people to "reach out and help the people of Leh and Ladakh."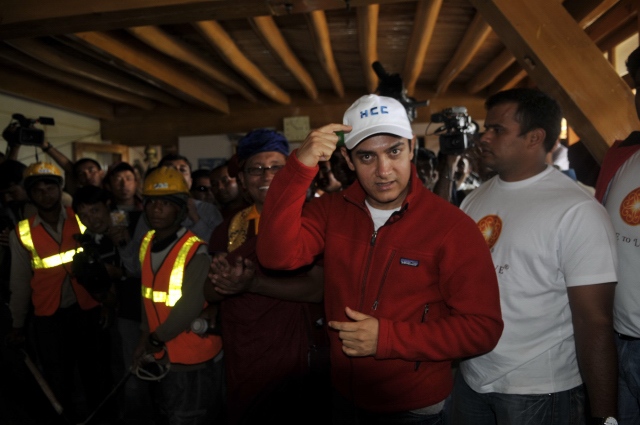 Help is coming from many quarters. HCC (Hindustan Construction Company) is continuing to provide substantial assistance in the form of labour and machines to help clean up the school campus. Experts from Médecins sans Frontières are on site, helping to counsel staff and students with respect to the trauma they have experienced. And representatives of SEEDS INDIA, an NGO that specialises in community-based disaster management, have offered help with reconstruction. More than 200 individual volunteers have helped on site with the clean up of the school and we offer them our heartfelt thanks.
Drukpa Trust, the school's UK partner, and Live to Love are appealing for further funds to help pay for the replacement of learning materials and school equipment, and for the repair of buildings and infrastructure.