25 October 2010
Posted in Emergency news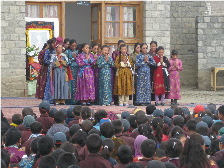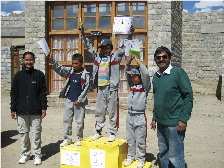 All classes are functioning again even though some classrooms are still being repaired. Following the loss of furniture and educational resources, there is much 'making do' until funding becomes available to complete the re-equipping.
Against this background, it was nice for students and staff to be able to celebrate Founders Day on 24th September, marking the 9th anniversary of the opening of the school.  The event was celebrated in a quiet way out of respect for those who lost homes and loved ones.  The children sang, danced, performed plays, enjoyed samosas, and took part in competitions.  Each class prepared a display on a given topic - such as nomadic life, or the costumes or food of Ladakh.  The nomads won!
Everybody was so enthusiastic and involved that sports day and prize-giving had to be postponed until the next day.  All this was a great way for the school community to come together in celebration after the traumatic events of early August.