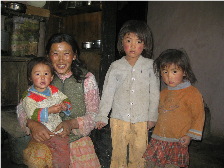 In order to reach out to families in remote areas, and to offer disadvantaged children the chance of a high-quality education in their own culture, the school offers a number of sponsored places. This is one of the most important humanitarian functions of the school.
Residential Children
The cost of sponsoring a residential child covers all the child's needs, including: schooling, books and stationery, uniform, accommodation and care on-campus, three good meals a day, casual clothes, medical and dental care, school trips, and so on. If full residentail sponsorship is too expensive for you alone, you may sponsor a child together with somebody else.
Day Children
Alternatively, you may sponsor a day pupil, which may include bus transport to and from school.
What do sponsors recieve?
"We hope you will enjoy happiness from giving a child a chance to flourish."
Each year you will receive a copy of the child's end-of-year school report,and a photograph. The children are encouraged to write to their sponsors.

How to Sponsor:
If you would like to sponsor a disadvantaged child, please contact Mme Sarla Chhewang, our Sponsorship Coordinator. Mme Sarla will be happy to let you know how to proceed and answer any questions you may have.