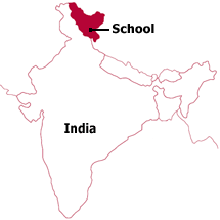 We are an award-winning project, inspired by the vision of His Holiness the Gyalwang Drukpa, a spiritual leader of Ladakh. Our school offers an education that grounds students firmly in their own culture and equips them to thrive in the modern world.
The main school is located in Shey, the ancient capital of Ladakh, which is about thirty minutes' drive up the Indus Valley from the main town of Leh. A branch school opened in Khachey in April 2010.
Students study Bothi (the local language), English and Hindi languages, plus sciences, social studies, creative arts and sports. They learn life and livelihood skills, including team work, presentation skills, leadership and problem solving through formal and co-curricular activities.
The school is known locally as the Druk Padma Karpo School - Padma Karpo means White Lotus in Bothi - and is named after Mipham Pema Karpo (1527-1592), who is revered as a great scholar.
This unique initiative is managed by the Druk Padma Karpo Education Society, a local non-profit society, with support from Live to Love, Drukpa Trust (UK charity no 1178756 under the patronage of His Holiness the 14th Dalai Lama), the Drukpa Charitable Foundation (a US 501(C)(3) organization) and Drukpa Humanitaire (France).
The school is split into four houses - Courage, Wisdom, Unity and Harmony