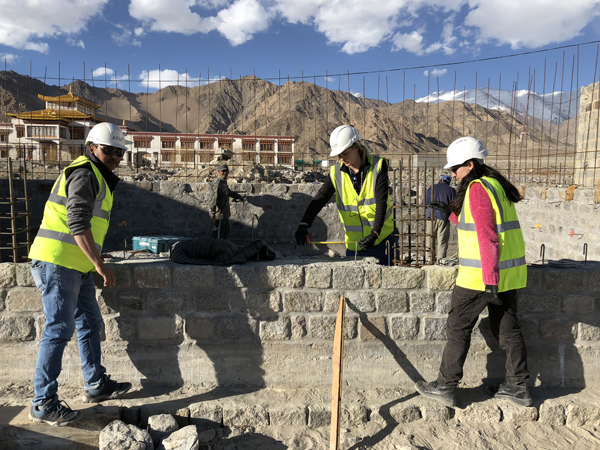 We need additional funds to complete the high-priority seismic upgrade and mudslide repair work at the school, during the three years 2021 to 2023.
The other high priority infrastructure funding need is for new school facilities, firstly the Senior Secondary School facilities for 16-18 year old students. Our teams are in place, and we have a proven track record in terms of project management and delivery.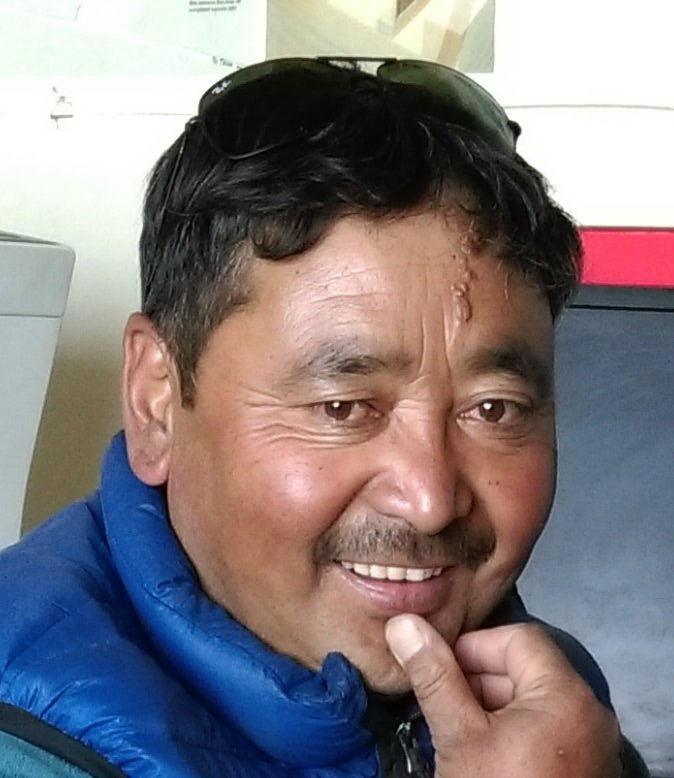 Our construction manager, Mr Sonam Angdus, is ready. We kindly invite you to consider contributing to the many investment opportunities outlined below and join us in supporting this landmark project.
Seismic Upgrade and Mudslide Repair Programme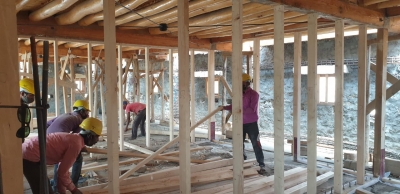 Five more residential buildings need to undergo this refurbishment, three have been completed.
This work might not sound very exciting to you, as you browse through the school website, but this work is vital as it will increase the resilience of the buildings in the event of an earthquake which is critical for the life-safety of the students and staff. The mudslide disaster was in 2010, but the school is still recovering from this. Funding is needed for this long-term refurbishment programme.
It was early in 2016 that Sonam Angdus, the construction manager, noticed problems with several timber columns, which prompted a series of structural surveys. They showed that the devastating mudslide in 2010 had caused hidden structural damage throughout the campus.
Over that winter, Drukpa Trust worked closely with the Arup design team to prepare a mudslide repair and seismic upgrade programme, with life safety and resilience for the next 50 years as key factors. On completion, the school will be a resistant post-disaster community aid hub in the event of an earthquake, serving Shey and the surrounding area.
Being a functioning school with around 840 students, open from March to early December (then closed for the harsh winter), the repair work will be phased over several years so that groups of students can be placed in temporary classroom and residential accommodation while the work is completed building by building.
The seismic upgrade and mudslide repair programme requirements range from:
| | | | |
| --- | --- | --- | --- |
| | Indian Rupees INR | US Dollar USD | UK Pound Sterling GBP |
| Pays for a carpenter for one day | 475 | 7 | 5 |
| Pays for a stonemason for one month | 14,250 | 210 | 150 |
| Seismic upgrade of residence space for 10 beds | 17,70,800 | 26,096 | 18,640 |
Health and Wellbeing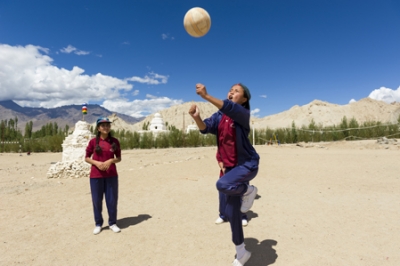 A key theme is to achieve sustainable standards of Health and Wellbeing for the students for the long-term. Construction projects include:
A. Final works on the last two Eco Shower Buildings (two have been completed).
The Eco Showers are sustainably designed, heated by the sun (water and air) and seismically resilient.
Below: Eco shower design detail and completed Eco shower building 2.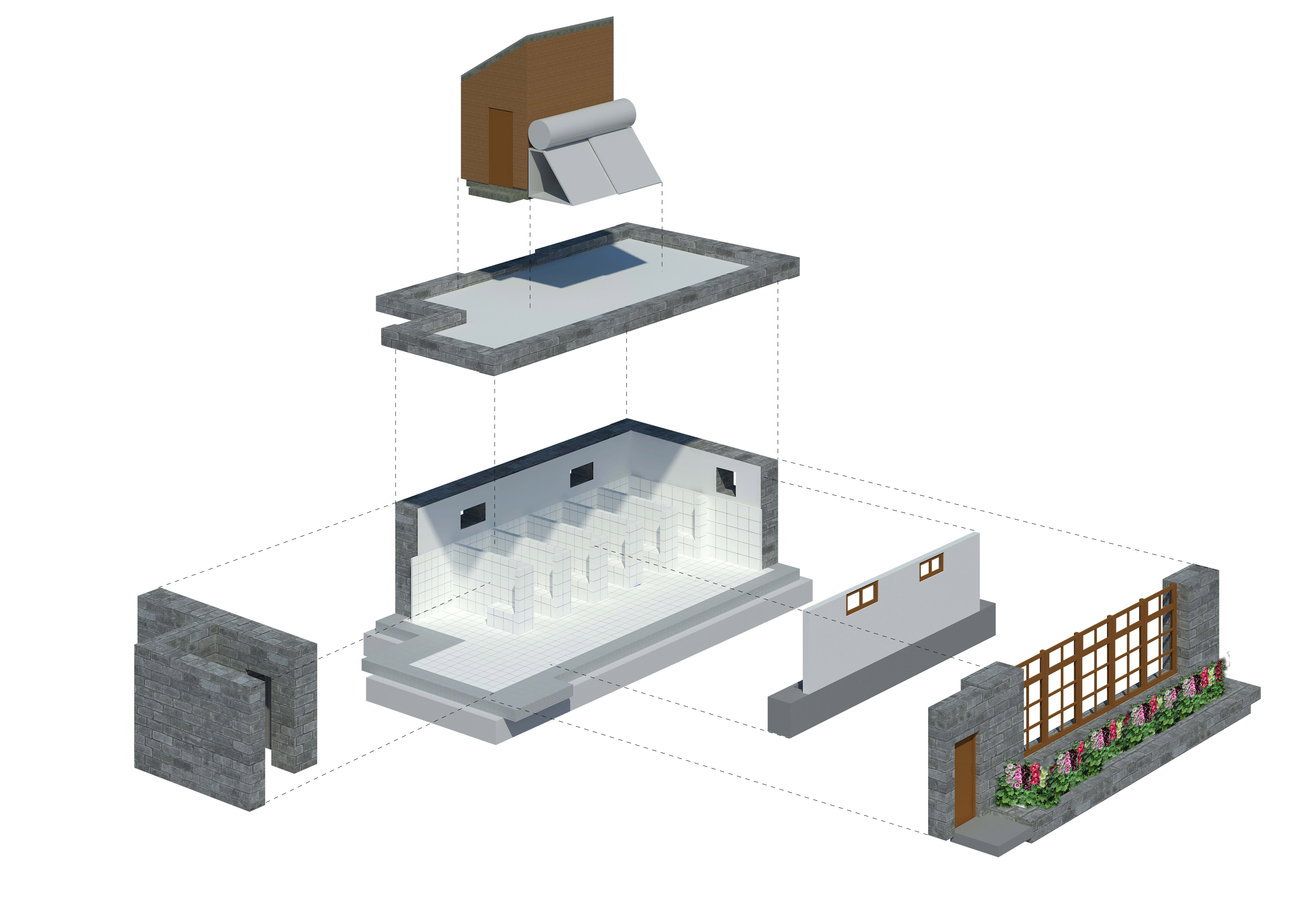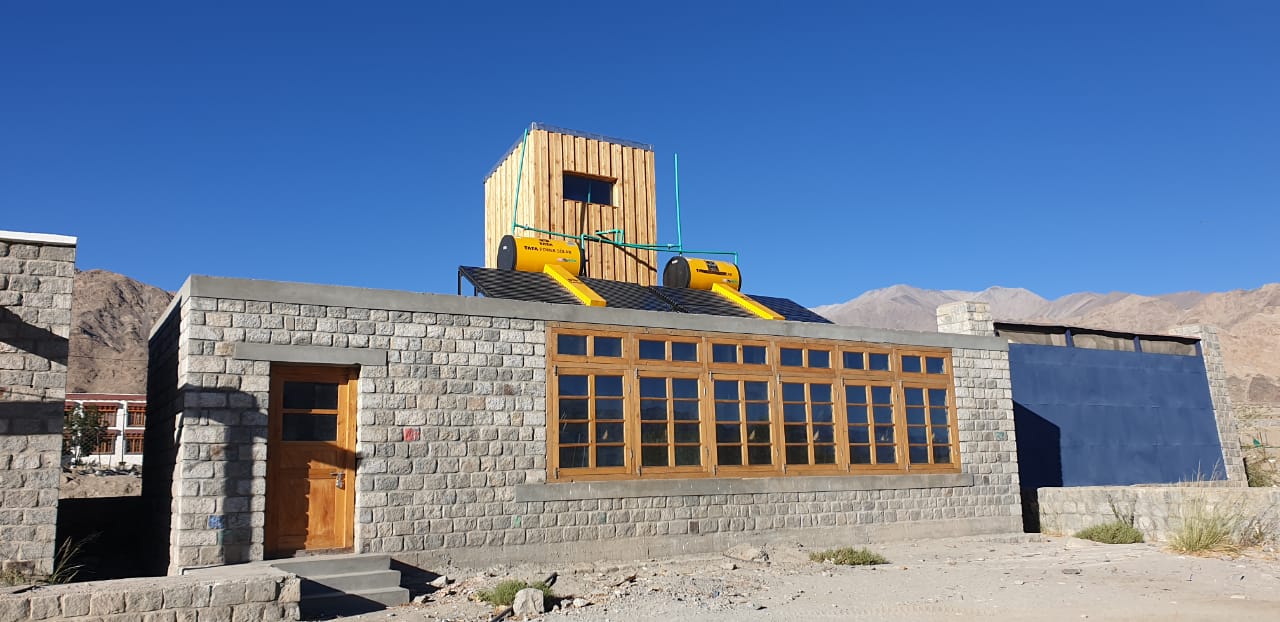 B. Health centre
C. Senior secondary school dry latrines
Please join us in improving the health and wellbeing facilities.
Landscape and Gardens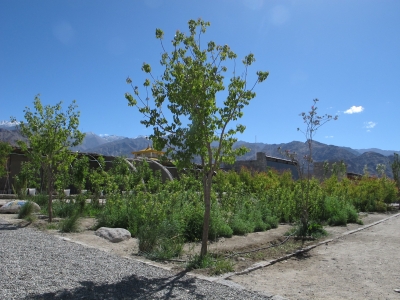 The 'Dragon Garden' Landscape and Gardens programme has a wide range of basic and ambitious projects including:
The high-altitude desert location creates a very dry and dusty 11.5 hectare campus and many of the school's open spaces still bear the scars of the colossal mudslide that hit the campus in August 2010. We resolved to transform this scene of devastation into a lush and stimulating learning environment for students and staff.
Drip Irrigation phase 3
Network of slate-paving pathways
Fruit orchard
Garden team
Adventure playground
Shade Court
Residential courtyard gardens
Dragon shelterbelt
Sports facilities
Themed gardens
Multi-Use Games Area (MUGA)
Dragon entrance and gates
Indus Valley look-out platform
Visitor centre garden and terrace
Lotus pond
and possibly a school farm
The Dragon Garden funding needs range from:
| | | | |
| --- | --- | --- | --- |
| | Indian Rupees INR | US Dollar USD | UK Pound Sterling GBP |
| Tree sapling / seeds | 95 | 1.4 | 1 |
| A stonemason for a month | 14,250 | 210 | 150 |
| Drip irrigation equipment | 3,53,400 | 5,208 | 3,720 |
| Multi-Use Games Area (MUGA) | 4,75,000 | 7,000 | 5,000 |
Please join us to realise the Dragon Garden and inspire the next generation.