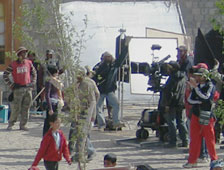 'The Three Idiots' movie has become Bollywood's biggest box-office success ever, in India and globally.
The hero, Rancho, disappears to Ladakh, dreams up inventions and creates a 'special school' - you see it towards the end of the movie. Guess where those scenes were shot: at Druk Padma Karpo School of course.
During the film crew's visit, Aamir Khan wrote in the School Visitor Book: "What a wonderful school. The kids seem very happy, and such a great location. Keep up the good work." Regards, Aamir 15/09/08
A film crew of about 130 people descended on the school in September 2008 for a 3-day shoot. They auditioned our students, selected a couple of boys for small parts and a large group to take part in the movie crowd scene when the stars arrive at the school in their red Volvo. Observing the hard work and professionalism of the stars and crew was an education for the school staff and students alike.
The crew then departed for Pangong Lake with a few of the students to shoot the final scenes. You can peek behind the camera in this video clip to see what it was like to shoot a movie in Ladakh http://www.youtube.com/watch?v=YLfR_RywvHI (watch out for our kids in the opening sequences).
If you haven't seen the movie yet - go see it. ENJOY. You might like to take a look at the movie's website (click thumbnail image to visit the site):